Photo Gallery - Ford Transit Campers
Displayed below are some images from two popular Ford Transit Campers online. This includes both the new 2014 Westfalia campervan and a custom homemade Ford Transit Stealth Camper.
Westfalia Camper
The Westfalia camper is unique in that it marks the first year Westfalia has used a diesel powered Ford Transit as opposed to a Volkswagen bus to manufacture their annual professionally designed and fabricated Class B motorhome.
Stealth Camper
The Ford Transit Stealth Camper is from a private owner and includes a kitchenette, fold down bunk beds, cooler, port-a-potty and room for storing a road bike. The design is that of a cargo/camper van which can be used for light work travel without drawing the attention of a full on camper van conversion.
Ford Transit Stealth Camper
Exterior View
Cooler / Kitchen Area
Sliding Door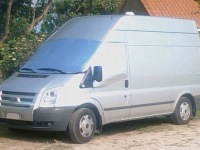 Exterior w/ Cover
Rear Doors
New Westfalia Camper
Exterior View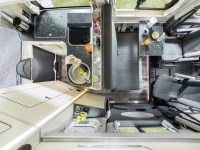 Kitchen Area
Rear Seating
Corner Unit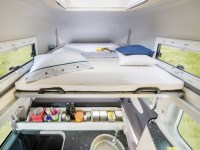 Sleeping Area